Why not fiddle with the hand (or face or bottom) that nature dealt you if it makes you feel better? Renee Pappas, sheds some light on plastic surgery and daringly reveals that she is a convert.

from "INSIDER" monthly magazine
Published in Athens, Greece, February 2004

The fifth-century B.C. physician Hippocrates believed that the body should be treated as a whole, not just a series of parts. Today, two Greek physicians, who are also husband and wife, use the Hippocratic philosophy to create and preserve beauty.

I met Dr. Yiannis Lyras, a plastic surgeon who studied under the world-famous Professor Ivo Pitanguy in Brazil, the doctor who revolutionized plastic surgery. And Dr. Pari Rapti, an endocrinologist, about six years ago. I was looking for doctors to solve my problems with hormonal changes and the telltale signs of "maturity".

Dr. Lyras suggested that a facelift would be a bit premature so we settled on just removing the "puffiness" and wrinkles around my eyes. The surgery was performed with a local anesthetic and after several months even a slight bump on my upper lids disappeared. I looked as if I had spent a month at a spa.

Dr. Rapti suggested a prescription of estrogen along with natural supplements such as linseed oil and primrose oil. The combination has been successful and my skin is in terrific shape.

Plastic surgery is all about self-esteem. According to Dr. Lyras self-esteem is basic to the human instinct for self preservation. It is neither self-centered nor narcissistic. People who opt for plastic surgery are those who are honest……they know they are not perfect and want to do something about it.

According to Dr. Lyras, Greece is fast becoming a favorite destination point for Europeans, Middle Eastern and even North Americans seeking plastic surgery. Greek medical services and Greek doctors are perceived as trustworthy by foreigners now that the country is universally seen as part of modern Europe. The medical infrastructure of private hospital, client services and European- and American- university trained doctors all contribute to this atmosphere of trust.

Greece's easily accessible positions in between three continents together with greater economic prosperity help account for the plastic boom here. Plus the price for plastic surgery in Greece is approximately half of what is charged for the same service in other European Union countries. This explains why so many Northern Europeans opt for plastic surgery in Greece.

New technologies such as the internet also make it possible for patients to shop for better prices and services for elective surgery. Also, doctors can show a patient on the computer how they will look after the surgery is performed.

As for botox, Dr. Lyras believes that it should only be used to complement another procedure as its indiscriminant use may lead to problems in the future.

Often patients request procedures that he considers incorrect for their particular condition or will fail to procedure anticipated results. Dr. Lyras either tries to dissuade the patient from insisting on the procedure or he simply refers them to another surgeon.

"A plastic surgeon needs first to be a good technician, but at the same time prescribe for his patient a balanced way of life," says Dr. Lyras.

Whatever surgery is chosen, other factors such as diet and hormone balance contribute to the success of the final results. For the past few years there has been growing consensus that smaller doses of female hormones and for a shorter period of time are preferred for post-menopausal women.

Dr. Rapti concurs and prescribes natural supplements such as evening primrose oil, selenium and A, C and E complex vitamins. Cream with DHEAS are used widely in Europe, while in the United States the supplement comes in pill form. Lotions that contain beeswax and an old Cretan recipe of a tonic of tsipoura infused with the plant athanatos do wonders for the skin. So does a relaxing bath with sea salt.

The Mediterranean diet which includes high fiber vegetables, onions and garlic and which is also enriched with Omega 3 fats (salmon and egg whites) help to keep the skin healthy and glowing. She also suggests detoxing with oriental green tea and rose tea from Crete.

But don't think it is all about vanity. While studying in Brazil with Dr. Pitanguy, Lyras witnessed and participated in his professor's pro bono Wednesday examinations and surgeries. Once a week the world-renowned plastic surgeon treats the indigent and neglected of Brazil and put smiles back on the faces who either nature or injury have disfigured.

Today Rapti and Lyras continue this tradition as members of the Omatha Aegean which was founded by the late Dr. John Ioannovich. These doctors travel throughout the Aegean treating patients on remote islands within each doctor's area of expertise.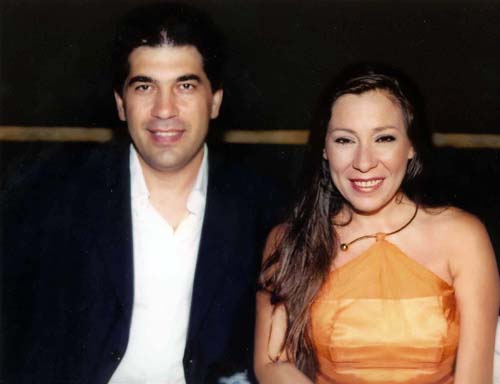 Dr. Lyras and Dr. Rapti (2006)